H2O Getaways
Boutique Houseboat Rental - A New Way to Experience the Trent Severn Waterway

Get ready to experience one of the best custom services ever and one of the best houseboats that you could ever rent or buy. H20 Getaways is a Canadian owned & operated Chic Houseboat Rental Company which offers lots of super fun activities and adventures with a worry-free environment from Trenton, Lock 1 to Lock 20, the bottom of the Peterborough Lift Lock, so get ready to relax and explore the waters of the breathtaking Trent Severn Waterway, you will not be disappointed.
H20 Getaways offers you a blast of adventures and activities but in the same way you can also relax in a super calm and stress-free waters to escape from your daily routine. You can expect nothing more than the best of the best, because the company provides you with everything that you possibly need to the point that you will feel like in a luxurious hotel and you will be happy to know that dogs are allowed. You can contact them via phone call, Facebook, Instagram or contact form on the website for any questions or inquiries that you may have.
The houseboat is located at Lock 1 in Trenton, which is from a 5 minute drive to exit 525 onto County Road 33 toward Trenton. It is a 5 minute drive or a 20 minute walk to downtown Trenton where there is a Metro, convenience stores and restaurant also, if you do a simple Google map search you will see that depending on where you dock, this route has a perfect location near places to eat out along all the way. After all that being said, you should not waste any more time and make your reservations now.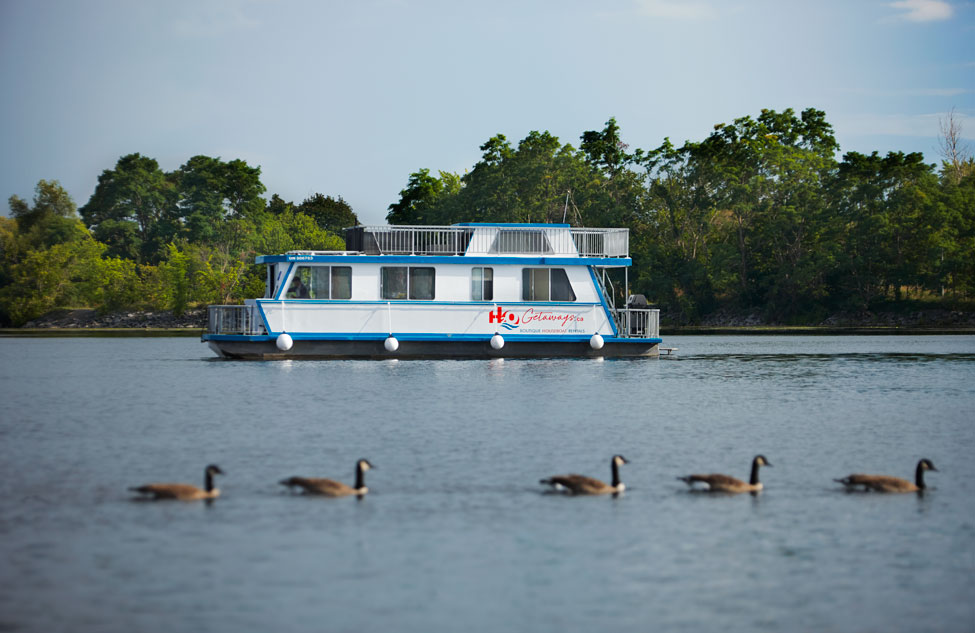 Houseboats:
Actually, there are 3 houseboats that you can rent depending on what you would like to do. If you want adventures, travel and explore then you can choose between Mr. Falls which is a 40' Pontoon style houseboat designed and outfitted for a safe and unforgettable journey or Mr. Healey which is a 44' Pontoon style houseboat designed for a safer and amazing travel and lastly if you want to chill and relax you can rent Miss Percy which is a similar houseboat. All of these boats include:
· 1 private sleeping cabin with a queen size bed.
· 1 private sleeping loft with a king size bed.
· Small fans in each bedroom.
· Duvets, linens and pillows.
· Dinette converts to a sleeping area for children but sleeping bags are required.
· Porcelain bathrooms.
· High-end kitchens with freezers.
· High quality pots, pans, cutlery and sharp knives
· Built in dinette for at least 6 persons.
· Propane BBQ.
· Bluetooth wireless speaker.
· Swim platform & ladder.
· First Aid kit.
· Computer tablet with Navionics.
· 6 adult life jackets.
· Anchor and many more useful items.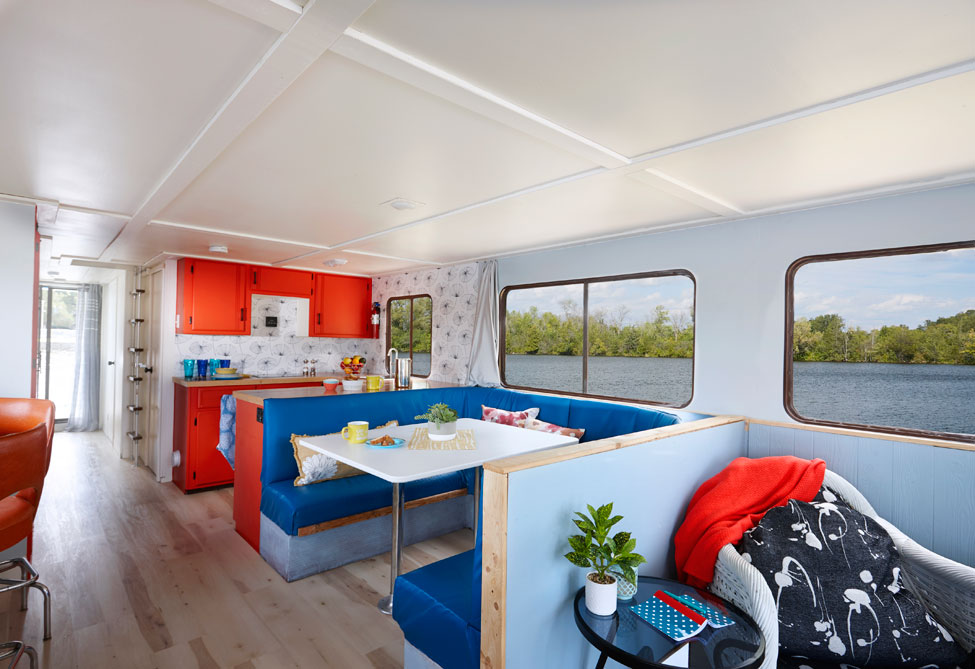 Rental Periods:
H2O Getaways makes it simple and easy to find the perfect boat for your preferred dates and pricing.
Click on the following link for the latest pricing.
H2O Getaways Rates and Availablity
Experience Required:
The company requires that the captain or the person navigating the boat must obtain the Pleasure Craft Operators Card (PCOC) before they come, once there they will give the captain a quick training session for a better custom experience.
Licensing:
A pleasure craft operator card is required. Before departure you will have to complete a rental boat safety checklist, as always be sure to ask any questions you may have when the boarding training and safety briefing occurs.
If you wish to obtain your Pleasure Craft Operator Card you can do so online. For more details please click on the following link.
Electrical Outlets:
You will find electrical outlets and USB ports to charge your mobile devices.
What to Bring:
The houseboat already has almost everything that you could need except for your food and beverages, also for health reasons you should bring your sheet, fitted sheet and pillowcase.
For a complete list of suggested items to bring, please see the following link What to Bring
Linens:
The company provides you with sheets, linens, pillows and huge beds.
Pets:
Dogs are welcome but they have to be on a leash. Dogs will also need to bring their own life jackets.
Additional Costs:
The houseboats are very straight forward and there should not be many additional costs, only the basic ones:
· Fuel
· Oil
· Propane
· Insurance
Area Activities:
· Exploring
· Fishing
· Swimming
· Barbecue
· Boating
· Kayaking
Contact Information:
Email at: [email protected]
Telephone: 613-661-9143
Contact form on website

Location Address:
H20 is located at Lock 1 in Trenton, which is from a 5 minute drive to exit 525 onto County Road 33 toward Trenton.

Driving Distances/Time From:
Kingston: 98 km / 61 miles – 1 h
Toronto: 166 km / 103 miles – 1 h 41 min
Montreal: 376 km / 233 miles – 3 h 42 min
Ottawa: 284 km / 176 miles - 2 h 36 min
Boston: 783 km / 486 miles – 7 h 26 min
New York City: 697 km / 433 miles - 6 h 55 min